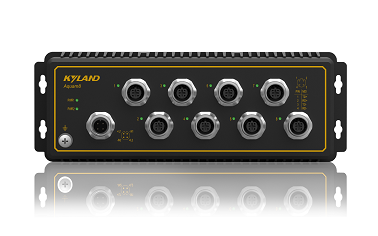 ‍Mar 25, 2016, Beijing – The robust IP65 unmanaged M12 switches Aquam8 series created by Kyland, a leading industrial communication solution provider, are helping a famous Japanese automobile manufacturing enterprise with its automobile production line. Due to their outstanding reliability and dustproof performance, Aquam8 series have gained customer's recognition, and more than 1,000 pcs of Aquam8 switches have been deployed in these automobile factories since 2015.

Kyland Aquam5/Aquam8 series unmanaged IP65 M12 Ethernet switches are new members of Kyland EN50155 product line which also include Aquam8012A/Aquam8512A compact managed Layer 2/3 M12 Ethernet switches.

As IP65 unmanaged Ethernet switches, the Aquam5/Aquam8 series support 5/8 fast Ethernet interfaces with M12 connector to ensure the firmness of the connection and the reliable operation which is especially suitable for applications with high vibration and shock. IP65 protection class enables the switches with dustproof performances. The Aquam5/Aquam8 series support a wide range of operating temperature from -40°C to +75°C, and meet EN50155, EN50121, EN55022 Class A&B and FCC CFR47 Part 15 standard requirements, which make the products suitable for the industrial field of various harsh environments, especially rail transportation and automation industry with strict requirements on reliability.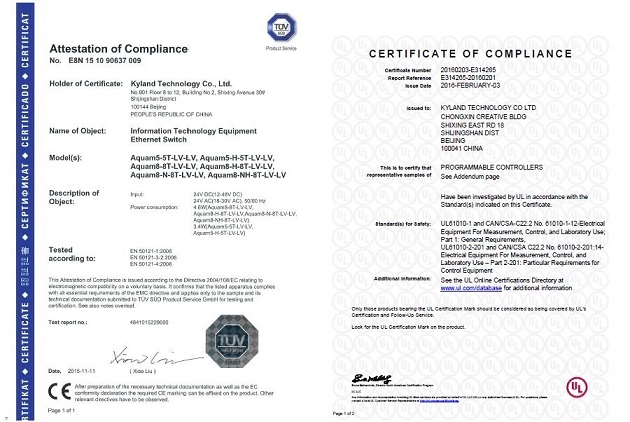 Aquam5/Aquam8 EN50121 & UL certifications.

For more information about Aquam5/Aquam8, please feel free to contact sales@kyland.com.‍